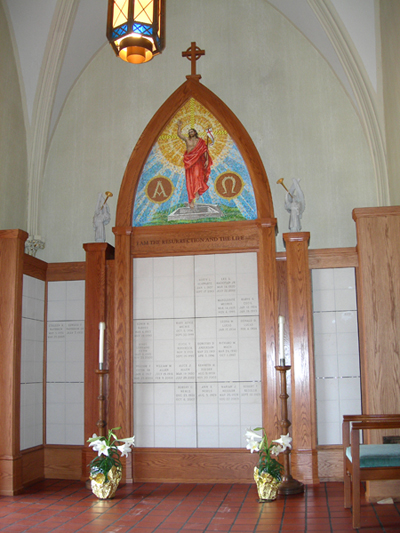 The Christian Church teaches that death is a part of the Christian pilgrimage, to be faced with faith in the life of the resurrection.
Burial in the churchyard adjacent to the church or within the church structure itself was once a common practice.  Cemeteries outside church buildings are used to remind the faithful that we are part of the communion of saints.  The graves would remind people of those saints who have gone before and are unique to a particular parish.  In the same way the columbarium at St. Matthew's reminds us of those saints who have worshiped at St. Matthew's before us.
St. Matthew's columbarium is located in the tower area by the east door of the church.  The word "columbarium" is rooted in the Latin word for "dovecote" – the dwelling place of Columba, the dove.  The name was derived from a fancied resemblance between the burial niches and the nesting boxes provided for domesticated doves.
St. Matthew's columbarium was developed to serve the needs of our parishioners.  If you are interested in learning more about funeral planning or the columbarium, please contact the parish office at 262.654.8642.